Horseback Riding for young and old:
Individual & qualified
Horseback riding is a life attitude
We build the bridge between horse and human, according to our philosophy "Happy horses – happy people". Learning how to handle the horse correctly and discovering riding as a way of achieving harmony with yourself and with the horse, that is our aim.
For all children and adults who are enthusiastic about horses and their care, we offer riding lessons from absolute beginners to advanced dressage riders in all facets at the Trunk holiday riding center. We are an FN riding school, training company for horse landlords and a relaxation oasis for horses and people. We are there for you, whether as a holiday guest on your riding holidays or for our locals.
Learn to communicate with your horse and experience. how your own behavior is transmitted to the horse. Horses symbolize strength, presence, freedom, lightness and centeredness and thus teach us devotion, assertiveness, positive thinking and openness. Working with and on the horse while doing groundwork or riding will have a lasting impact on your own personal development – look forward to your personal moments of happiness.
The horse as mirror of your soul
Learning to ride means to understand horses and being able to "read" them, for us one of the most important foundations for a harmonious coexistence between horse and human. Riding is communication between horse and rider and that takes time, love and patience.
Riding is a holistic way for us,

to accompany us sustainably in our equestrian and personal development ...
EVERYTHING AT A GLANCE:
Keeping a long story short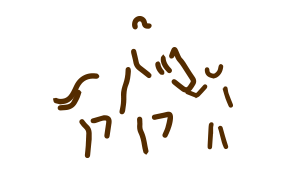 HANSI-Club
REQUIREMENT:
from 6 years, without previous knowledge
Learn how to deal with horses / riding in a playful way, basic knowledge of equine science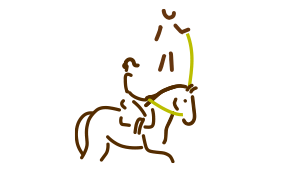 LUNGE
REQUIREMENT:
from 6 years, visited HANSI-CLUB or already ridden on the lunge
Individual lessons, riding instructor checks the horse on the lunge (long leash) if necessary, preparation for free riding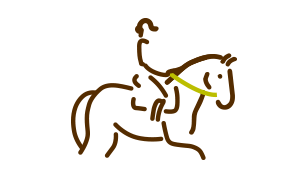 Individual lesson
REQUIREMENTS:
from approx. 8 years, at least step and trot, independent without lunge

individual lessons, individually adapted to the rider's ability, possibly sitting training or on the lunge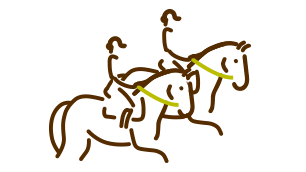 Riding lesson
for two
REQUIREMENT:
from approx. 8 years, at least step and trot independently without lunge lessons with two riding students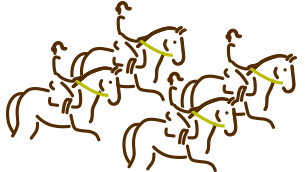 Riding lesson for
a small group
REQUIREMENT:
from approx. 8 years of age, at least able to ride at least step & trot, gallop optional, without lunge, previous group lessons
Lessons with up to five riding students
For your mental and physical fitness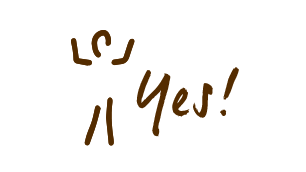 FIT-FÜRS-PFERD-Coaching
----------------------
"Horse work is human work", that means work on and with the horse always means work on ourselves. Using the training scale for horse and rider, we enable you in our "FIT-FOR-HORSE" coaching: to improve your own body awareness, to get a feeling for how your "signals" (help, posture, actions) are understood by the partner horse, to increase your mobility and strength and all of this based on the training scale for rider and horse. Be curious 🙂
Step by step you will learn to be able to assess yourself better and to develop not only "physically" but above all mentally. We dedicate ourselves to developing your mental control, because the "correct picture in your head" of a precise and above all positive idea of seat, posture, sufficient body tension, stability in balance and precise help allows us to understand how " Riding "should feel. Our goal: to discover mindfulness for horses and riders.

Feel, breathe & smile
YOUR ADDITIONAL PROGRAM ON SITE
#EVERYTHING MORE THAN RIDING
We offer you a newly compiled additional program every week
all about riding. Participate depending on supply and demand 🙂 Have fun!
We look forward to the time together!
Your riding team from

Urlaubsreiterhof Trunk